Bananas play a big role in my diet. I have them with my green breakfast smoothies. And I love to use them in baking also. Some time ago I made some banana muffins. But I kept thinking about making a banana loaf. Topped with bananas of course! So everyone goes bananas 😉
The recipe is fairly easy and works without gums or starches. Getting the right baking time is key. I urge you to do a needle test and take it out of the oven when the needle comes out just a little sticky. This way the cake will be slightly moist and sticky and won't dry out too quick.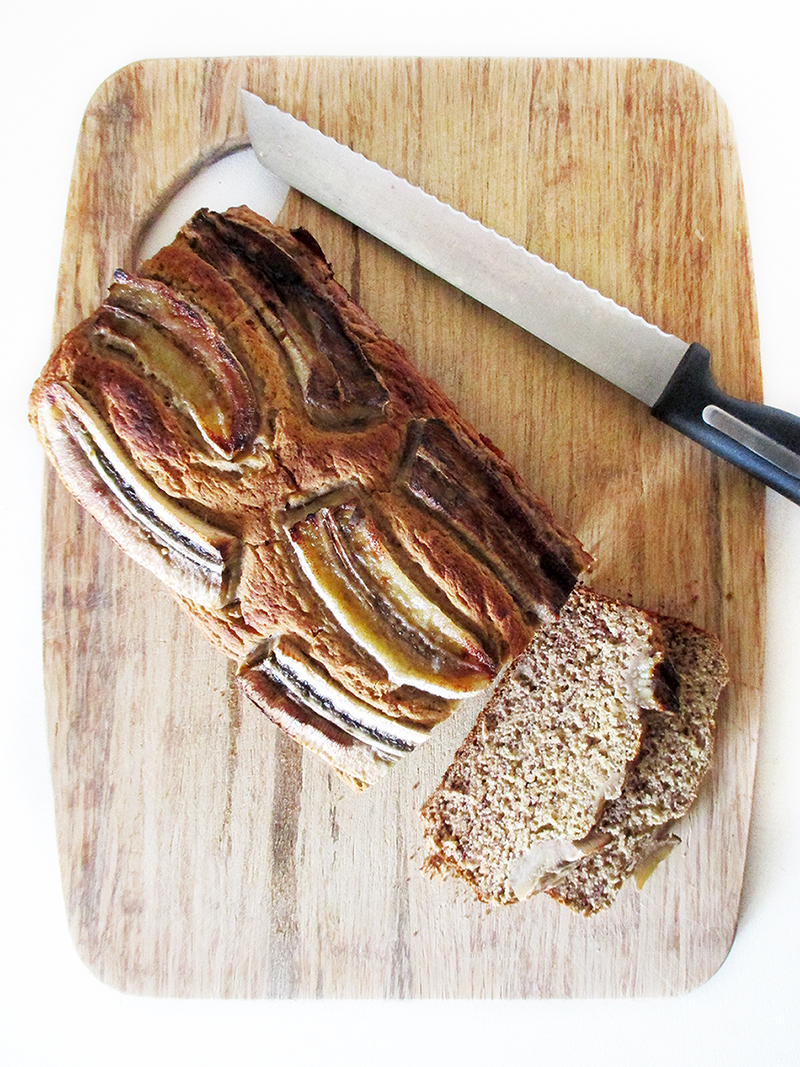 For 1 banana loaf you'll need:
3/4 cup (80g) sorghum flour
1/2 cup (60g) brown rice flour
1/2 cup (65g) buckwheat flour
1 tablespoon fiber husk
2 teaspoon baking powder
1 teaspoon baking soda
1 pinch salt
3 ripe FAIR-TRADE bananas
2 tablespoon olive oil
2/3 cup water
1.5 FAIR-TRADE bananas for the topping
Preparation:
1. Preheat the oven to 190°C. Mix the dry ingredients in a medium sized bowl. Set aside.
2. Mash the 3 ripe bananas in small bowl until smooth. Cut the 1.5 bananas for the topping in half. Set aside.
3. Pour the mashed bananas into the bowl with the dry ingredients. Add olive oil and water and mix well, but not too long.
4. Pour the dough into the loaf tin and spread evenly. Place the banana halves on top, with the cut side facing up. Press them slightly into the dough.
5. Place in oven and cover with a loosely placed sheet of aluminum foil or an empty, uncoated tray in the rack above. Bake at 190° for 30 minutes. For the last 5 minutes, remove the aluminum foil and switch the oven to grill. But make sure you keep an eye on things so as not to burn the top 😉
6. Let cool down a little before taking out of the tin. Enjoy! 🙂
Please let me know what you think about this recipe, I'd love to hear from you! And if you remake this recipe, please share the picture with me on Pinterest, Instagram or Facebook.