Ever since I heard of pink chai I was in love with the idea. I mean, the flavour of chai is just soooo lovely, warming and cozy! Add a little pink tinge to it and it becomes a next level cute hot drink.
I actually never got to enjoy this delicious hot drink though, until I came across this (German) recipe from Der Veg ist das Ziel. I made it – and loved it from the first to the last sip! And I kept thinking of it, those colours, those flavours…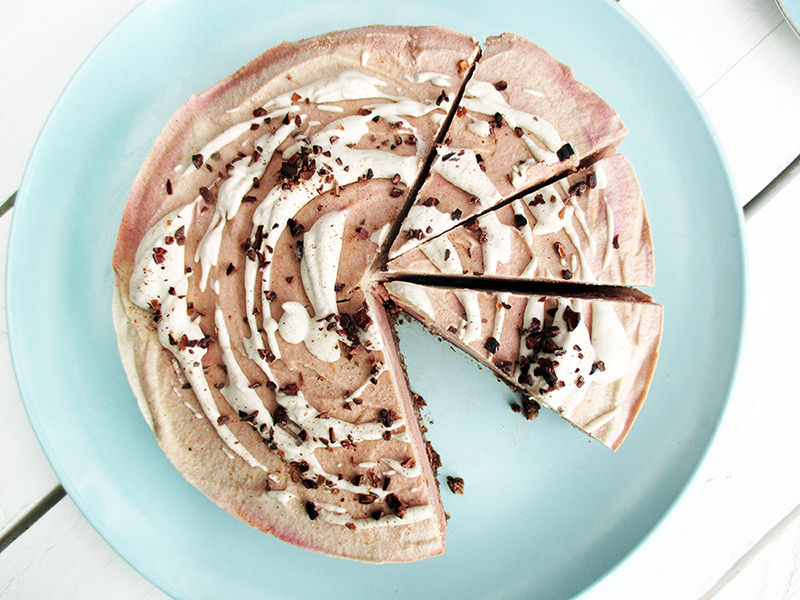 After I played around with a few recipe ideas I tried a no-bake version of a pink chai flavoured cake. It was a hit! So dreamy, creamy, delicious! And as always it is vegan, gluten-free and without refined sugars! 🙂
The secret to the dreamy pink colour? Beetroot powder! And turmeric if you wish to have a dusky pink colour. Without the tumeric it will have a brighter pink colour.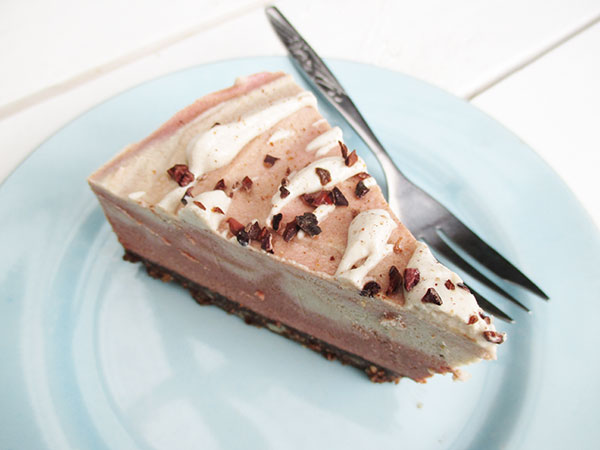 Makes a 18cm (7inch) spring-form:
For the crust:
1 cup (140g) macadamias (or other nuts), soaked
3/4 cup (105g) dates, pitted and diced
3 tablespoons FAIR-TRADE cocoa or cacao powder
For the filling:
1 cup (140g) dates, pitted and diced
1 1/4 cup (310ml) water
2 cups (280) cashews, soaked
2-3 tablespoons cacao butter, melted
3-4 teaspoons beetroot powder (depending on how much colour you prefer)
2 teaspoons cinnamon powder
1/2 teaspoon ground allspice
1/2 teaspoon ground turmeric
Preparation:
1. Place nuts and dates into high-speed blender and pulse to fine crumbles.
2. Transfer to a bowl, sift in cocoa or cacao powder and mix well.
3. Line base of springform with baking paper. Scoop the chocolate dough into the tin, spread evenly and press firm.
4. For the filling blend all ingredients but the beetroot powder and the spices. You might need to use the tamper in order to get the mixture smooth.
5. Take about half a cup of the cashew cream aside. Then add beetroot powder and spices and blend a little longer.
6. Pour mixture into the cake tin. Then add most of the 'plain' cashew cream and gently fold it in. You can mix it by swirling it around with a spoon.
7. Mix the remaining cashew cream with just a little water to make it runny. Then drizzle it over the cake, moving the spoon in circling motions. Garnish with cacao nibs or other ingredients of your choice.
8. Place in freezer until set (about 6 hours), let defrost a little before cutting slices, then chill until serving.
Enjoy! 🙂
Please let me know what you think about this recipe, I'd love to hear from you! And if you remake this recipe, please share the picture with me on Pinterest, Instagram or Facebook.